Iceland.
Where to even begin?
On August 27th, one of my very best friends Bethany Squires- the other half of #themondayadventures, & I boarded a plane to Iceland. Our good friend, Emily Creek, had spent the summer doing field work for her thesis for grad school, studying Icelandic dance and culture. There is a dance festival in Reykjavik at the end of August, and that was primarily where she would be gathering most of her research. As that was ending, we arrived for her last week there. Our plan was for Bethany and I to do a one day trip in Southern Iceland & then to go get Emily and do a 5 day trip to the West Fjords & into Northern Iceland- a big road trip around Iceland. Sharing about this trip on the blog is a must. I've really thought about how I would share about Iceland, there's so many things to say, so many photos to share. So I'm doing to do a day by day look at this trip.
Day 1- August 28, 2017
Arrived at KEF airport at 7:00AM, with only 2 hours of sleep, got into our car rental and headed to Reykjavik to Emily's Airbnb. We got settled in then headed to wander around downtown Reykjavik, I absolutely loved the feel of the city. So simple, small, minimalist- pops of color on roofs and siding of houses. We ate breakfast at The Laundromat, & every bite was delicious- it was either really amazing food or I was just THAT hungry. We headed to one of Emily's favorite coffee shops, Kaffihús Vesturbæjar, for coffee and AN ICELANDIC DONUT! The donut was delicious, it almost just tasted like sweet bread, so simple. We walked along the beach right by the cafe, there was black sand, and rocks, and sea glass. Emily had to head to workshop for her research so Bethany decided to take a small nap, and I decided to head out for a short run- one of my absolute favorite things to do in a new city. Shortly after that, Bethany and I headed out to wander again and ended up in a bar called Bravo for Icelandic beer during happy hour- as they were getting ready to do Harry Potter Trivia- too good. Once Emily was done, we met at Snap Bistro for dinner.- seated in an all glass area of the restaurant that resembled a green house. We had bread, a charcuterie board, duck salad, cod with tomatoes and sweet potatoes, and a great bottle of wine.
Day 2- August 29, 2017
Bethany & I's solo road trip- along ring road in Southern Iceland. We headed to Reykjavik Roasters for some coffee before hitting the road. First stop, Seljalandsfoss- our first waterfall!! This was absolutely gorgeous, and the coolest part about this one was that there was a trail to walk BEHIND the waterfall. Second stop, Seljavalir Pool- a man made pool in the middle of mountains. You drive 10 minutes on a gravel road that seems like it's going to attack your car, then you hike about a mile back and arrive at the pool. The pool is warmed by geothermal water, but isn't entirely hot- more lukewarm. Third stop, Skogarfoss- a waterfall a bit bigger than Seljalandsfoss, with this one you can hike up 527 steps to the top for an entirely different view. The trail continues on behind it, so Bethany and I continued hiking back for about a mile. Fourth stop, Reynisdrangar- the Black Sands Beaches, they were so unbelievably beautiful. The contrast of the sky with the water with the sand was breathtaking. Finally, we headed into Vík to set up camp right outside of the little town. We were hanging out in the little room next to the check in spot at the campsite and everyone quickly headed outside- to see the Northern Lights coming out!! Bethany and I were in awe and so thrilled, but little did we know a few days later they would be even stronger!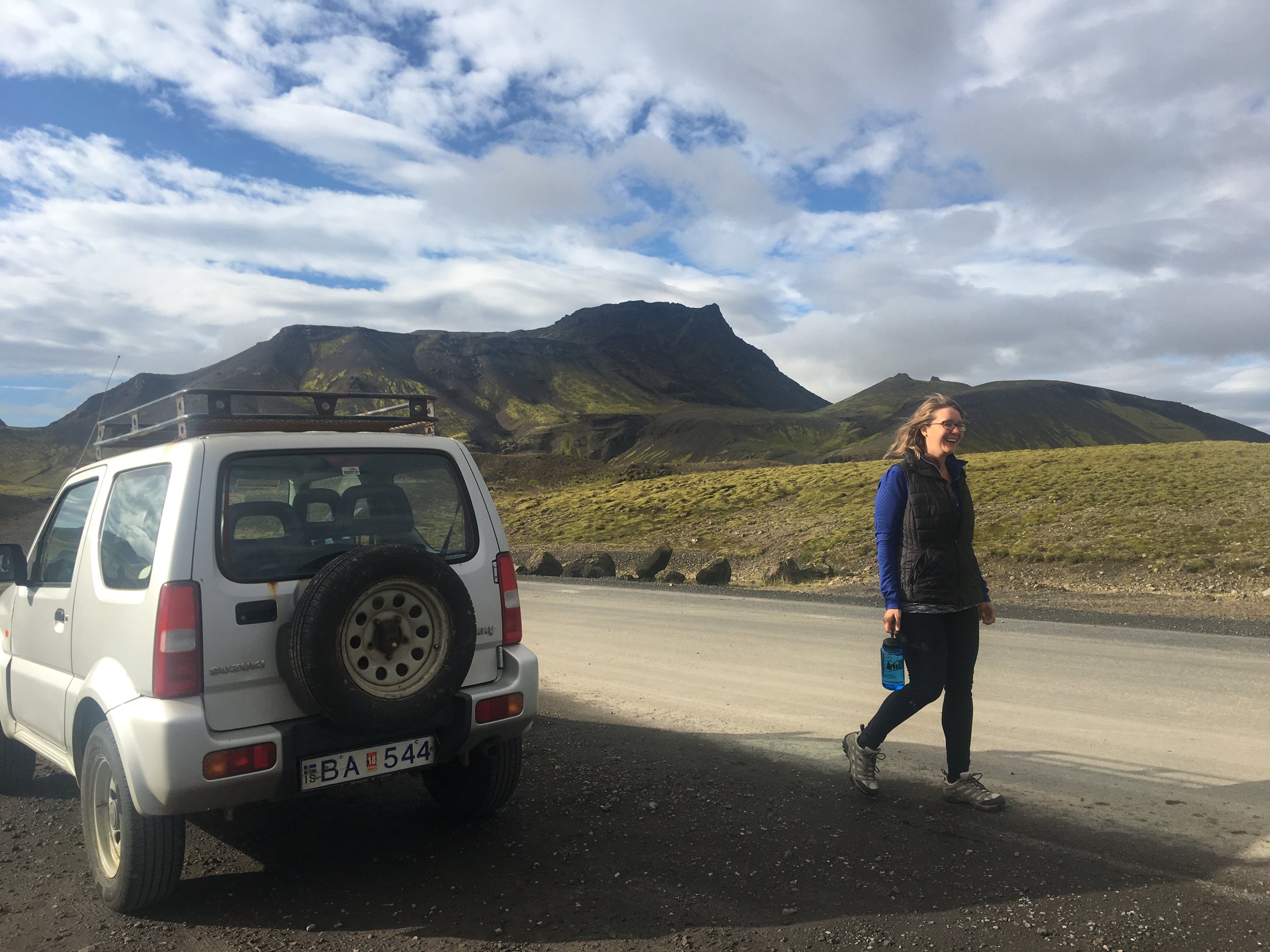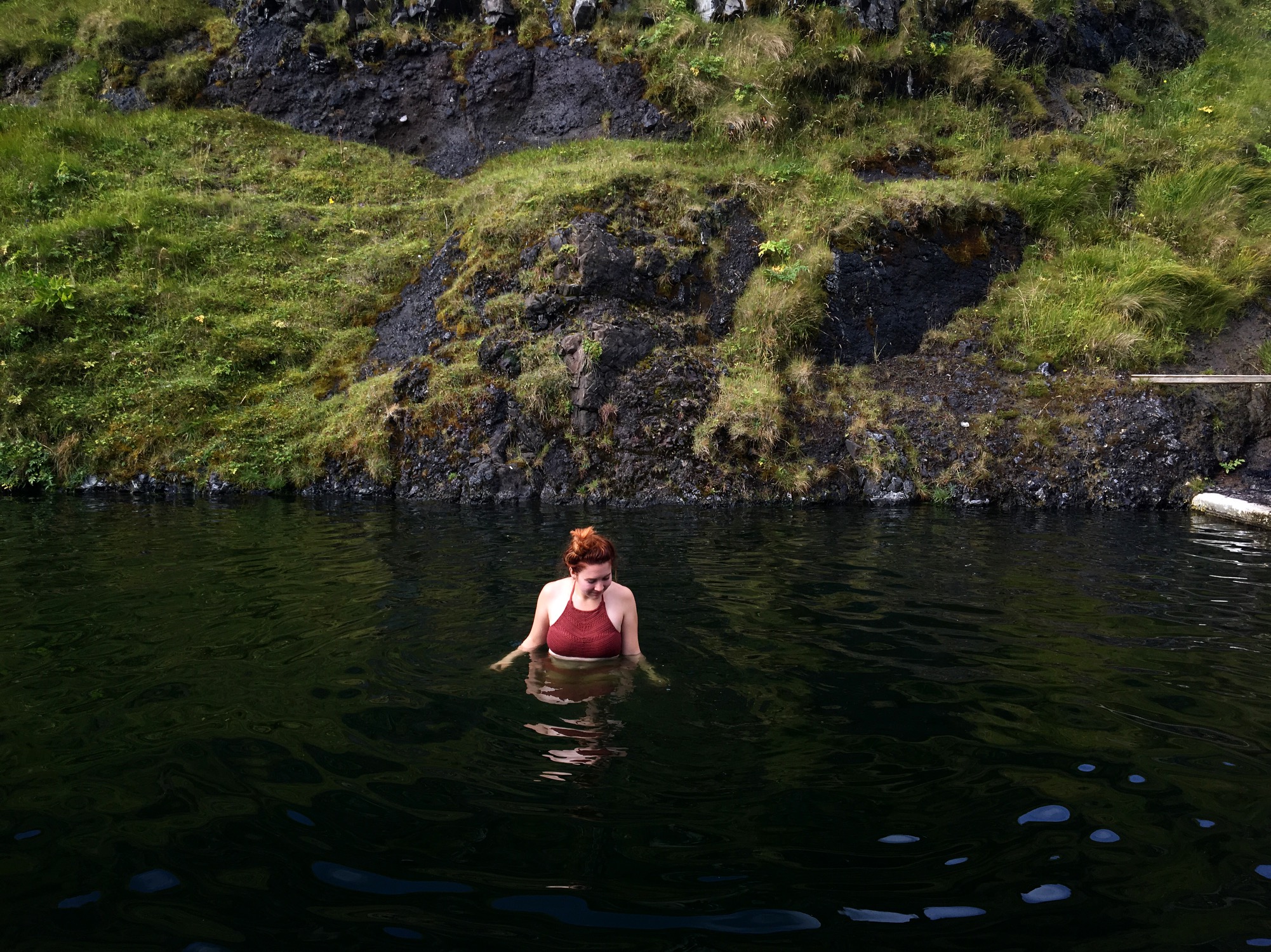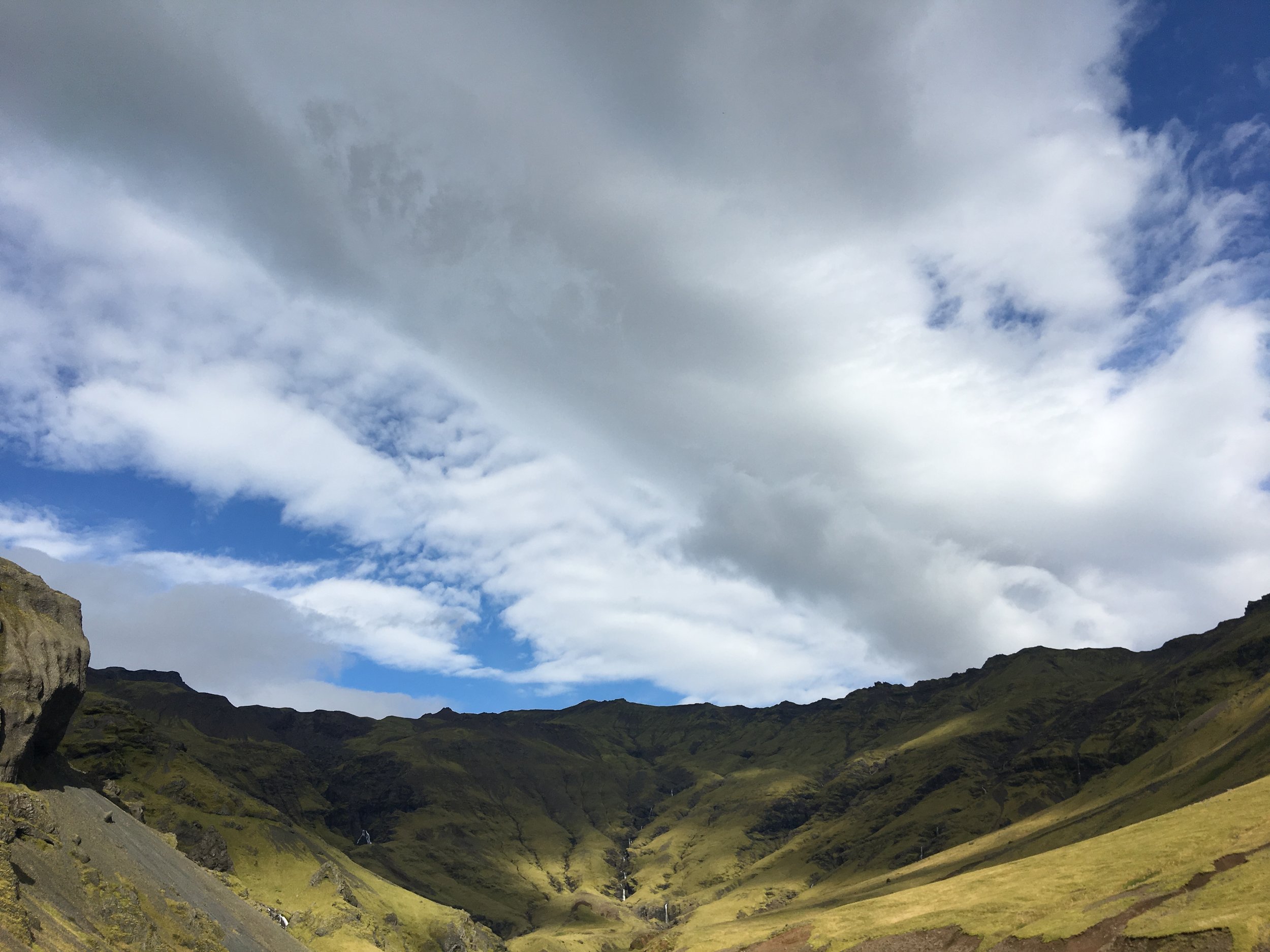 Day 3 August 30, 2017
We woke up at 5:00AM to head back to the Black Sands Beaches for sunrise. The sky was completely lit up already, but there were pastel colors all along the horizon- breathtaking. We were so happy we went so early in the morning because the night before the beaches were packed with people but in the morning we were the only two out there, complete silence- it matched the peacefulness of the sky and beach well. I threw on my running shoes and ran the 6.5 miles back to camp- talk about a rolling course, up and over hills the entire time which was a lot for this city runner! It was such a beautiful and peaceful run, with the addition of my legs really feeling those hills- ha! We packed up the car and headed back to Reykjavik, with only two stops along the way- the start of a trail so that we could see one of the glaciers in the distance, and a coffee shop. Once we got back to Emily's we quickly repacked the car to head to the West Fjords. First stop, Grafarlaug- our first hot pot, this one was manmade and only slightly warm but we were pumped about it. We mostly wanted to get a lot of driving in that day so that we could be at our campsite in the West Fjords- and boy did we. The roads ended up turning into all gravel roads up and over mountains and around the Fjords.. for two hours. I can easily say that was one of the most terrifying car experiences that I've ever had. Let's just say it's a miracle that our car, whom we named Sven, survived those roads for that long.. and a miracle that we didn't run out of gas. More than that, it's a miracle Bethany navigated us through the roads as calm as she did- and boy were Emily & I glad she was the one driving. We finally rounded a corner and found gas, camping, a small hotel that had WINE, and a hot pot. Basically, everything we could need at that moment.
Day 4 August 31, 2017
Our first and only thing on the morning agenda was to soak in the hot pot along the fjord, and it was everything that we could have dreamed of. By far my favorite hot pot of the trip, as you were soaking in water that was as warm as a hot tub, you were staring out at ocean water, that was likely SO COLD- unreal. Our next stop was Dyanji Waterfall, which was by far my favorite waterfall of the entire trip. It was absolutely breathtaking, almost majestic. And we got to fill our water bottles with water flowing in the river beneath it- AMAZING. After that we headed to Simbahöllin Café for the afternoon to drink coffee, eat waffles with jam, and journal- it was just what was needed after a day full of driving terrifying gravel roads the day before. It was in the middle of a little fishing town on the side of a mountain. Finally, we got back into the car and headed to Ísafjörður, the capital of the West Fjords, to set up camp. That evening we wandered around the downtown area and Bethany and I planned our routes for our early morning long runs. As we fell asleep that night, Emily set an alarm for 1:00AM because the Northern Lights were suppose to be very strong and there was no cloud coverage so there would be high visibility. At midnight, she suddenly woke up needing to go to the bathroom and came back into the tent and said "uhh, guys, you're gonna wanna come out here," I've never jumped out of a sleeping bag so quickly. We stood there in awe as the Northern Lights danced around the sky above us for 20 minutes. There was constant, "oh my goodness", "wait, look over there!", "wow", for the entire 20 minutes. It was unlike anything I've ever seen before.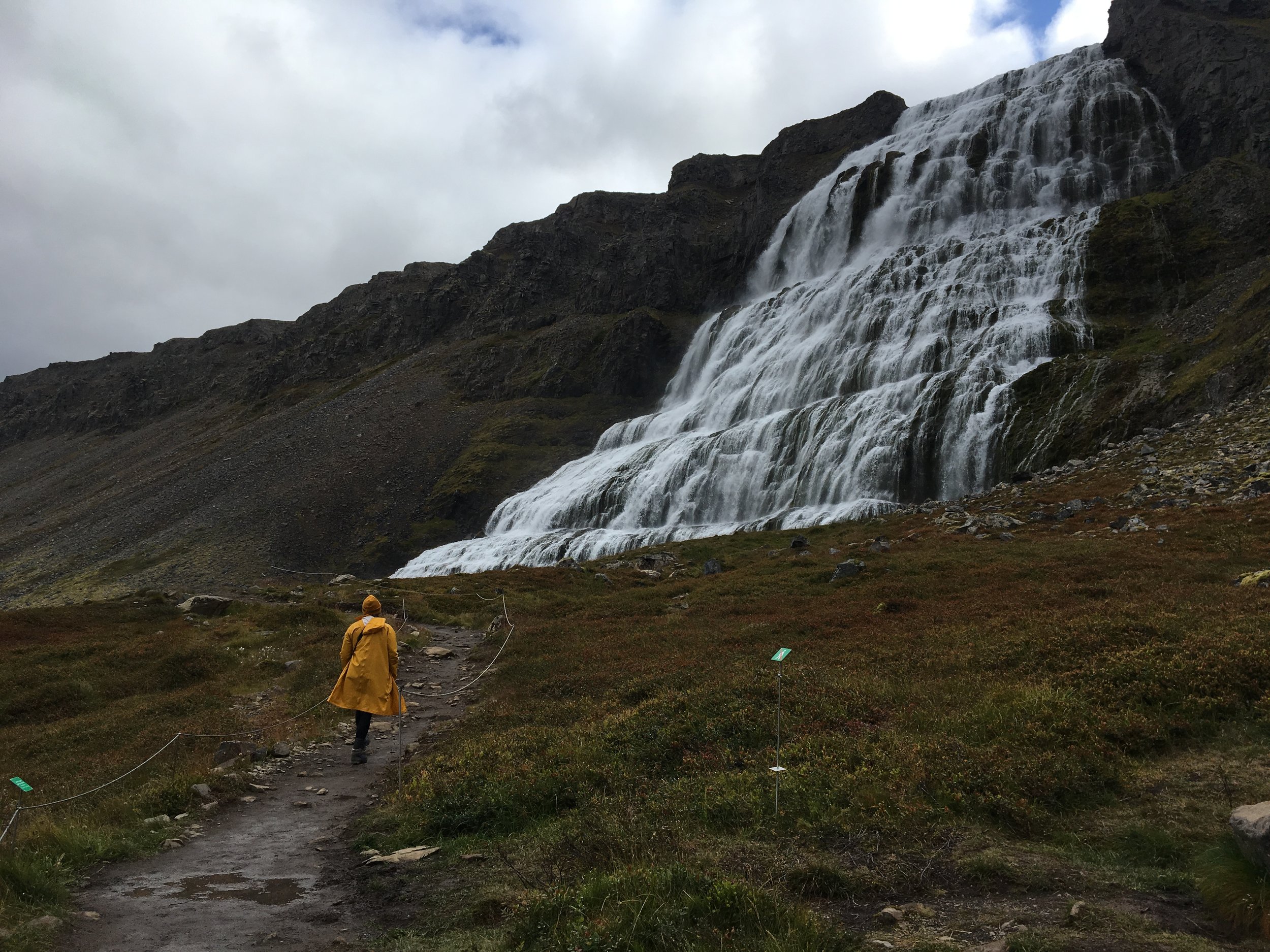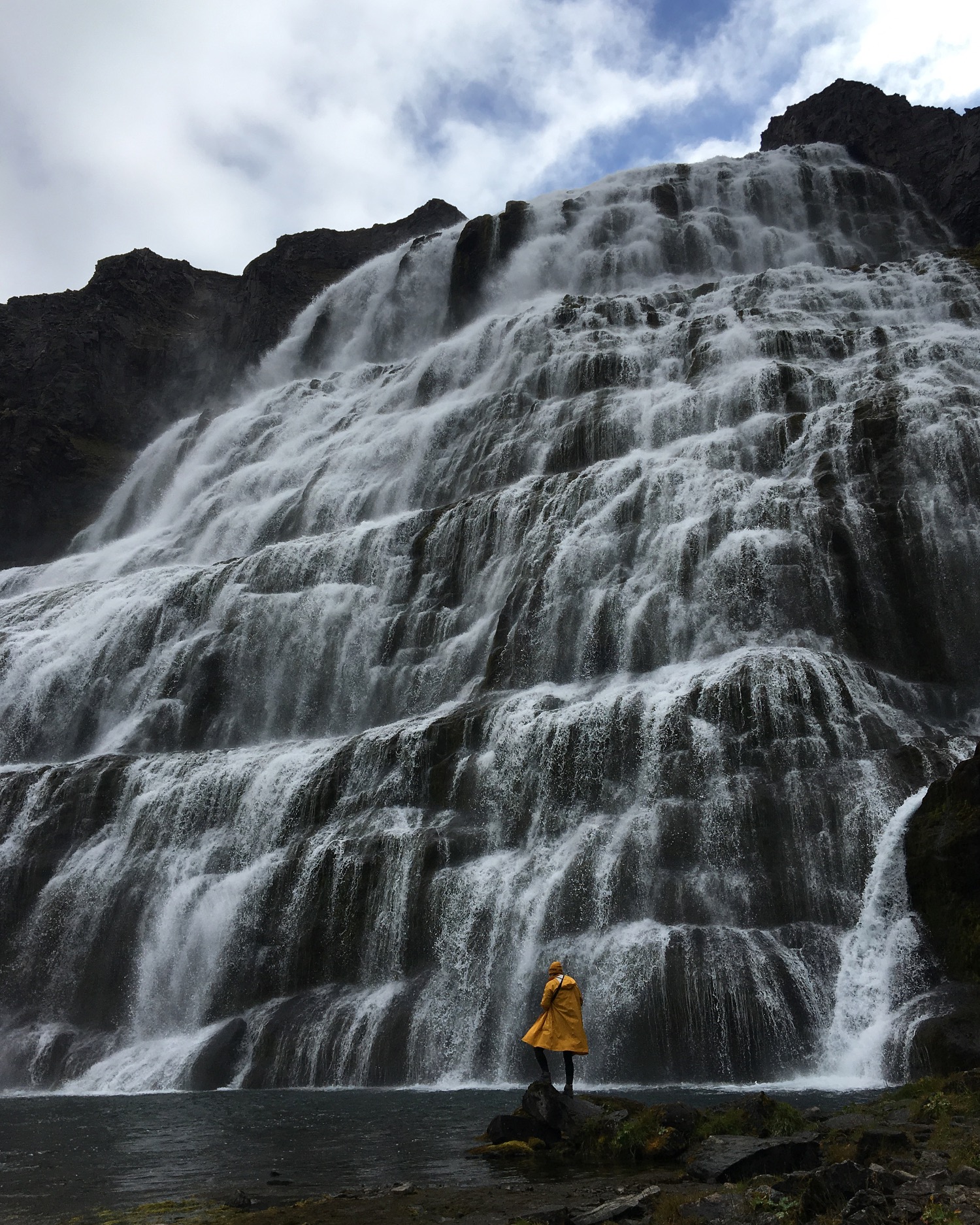 Day 5 September 1, 2017
Bethany and I woke up at 5:30AM to head out for our long runs, she was running 10 miles and I was running 14- we were both running solo. Talk about a peaceful run, the sky started as a beautiful orange as it continued to light up throughout the run. As I ran through the town of Ísafjörður, it woke up all around me, kids jumping on bikes with parents walking or biking beside them to school, people making breakfast in the windows- everything so much quieter, so much slower. After our runs we headed into town to sit at a cafe, with quiche and coffee before we headed north to Akureyri. As we left the West Fjords, Emily did another dance installment of #acreekgroovesiniceland on the side of a Fjord- beautiful. Along the way we stopped and saw seals, bought rhubarb jam, and finally ended with fish and chips in Akureyri for dinner. To end the night, as we were setting up camp, we realized that something had happened to the tent poles and they were totally broken and unable to be used for the tent- and it was about to rain for the entire night. After the initial upset, and the list of ideas on what to do, it was decided that the option we needed to go with was going to the Icelandic Air hotel in the city of Akureyri, so we headed back in to see if there was a room. It definitely was not the most ideal situation, not at all what we planned for, but we clearly new that in the moment it was what needed to be done- and hey, we got to sleep in some real nice beds that night- ha!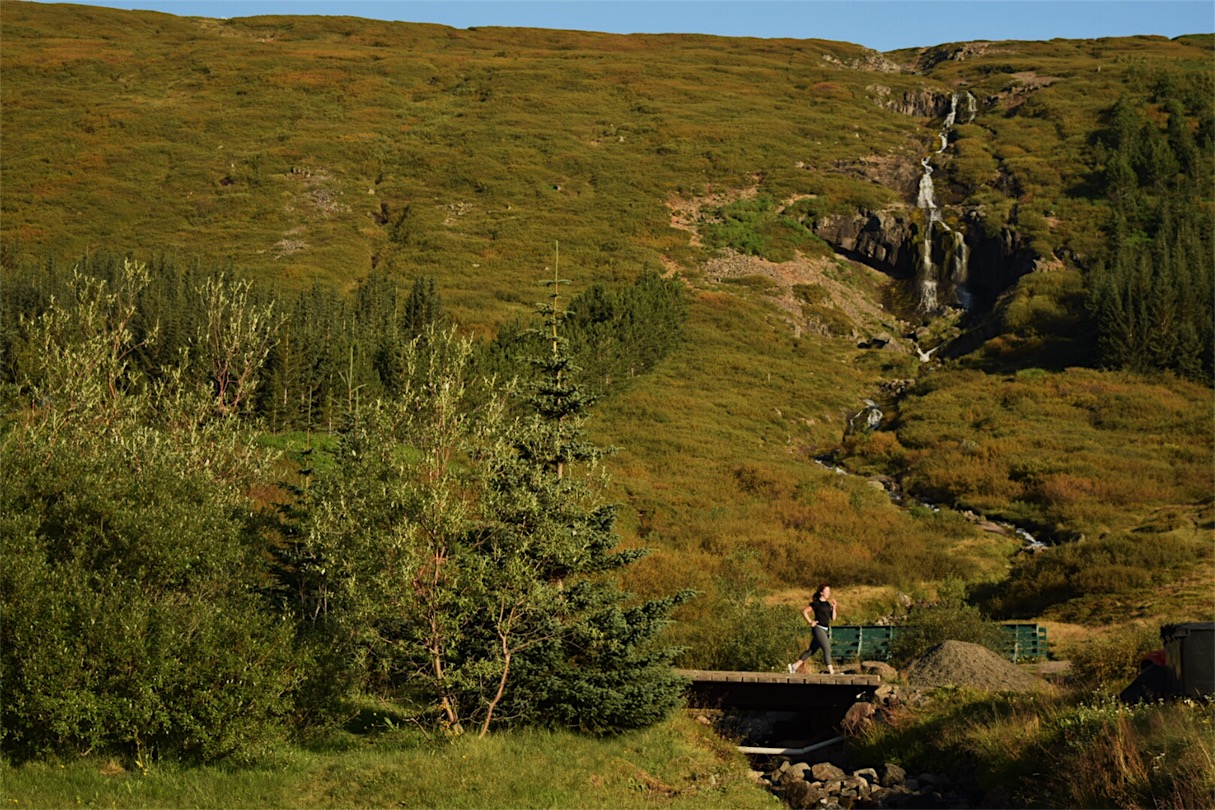 Day 6 September 2, 2017
We started the morning with coffee in hand strolling around Akureyri, wandering the very empty streets before heading back south to Reykjavik. The original plan was to stay north for one more night, but with the tent situation we decided it was best to do a slow roll to Reykjavik that day, with lots of stops in between then adventure from Reykjavik for the next two days. Our first stop was, Goðafoss, a beautiful waterfall with almost teal blue water. Next, the terrain started changing dramatically and we were suddenly in a geothermal area. There were hot springs boiling, mud pots bubbling, steam coming from the ground and out of rocks, and a strong smell of sulfur that almost made you sick to your stomach. It was bizarre, and honestly one of my favorite things we saw over our entire trip- mostly because of how unique and different and unexpected it was. Our final stop before heading all the way back to Reykjavik was Dettifoss. Dettifoss is the biggest waterfall in all of Iceland, and honestly it was just overwhelming and not really all that beautiful in comparison to so many of the other waterfalls we saw along the way. The most significantly cool part about Dettifoss is that it's completely surrounded by boulder fields, so you're hiking to find it and it almost seems as if it doesn't exist- then suddenly appears. Selfoss was also about a half mile from it, which is hilarious because Bethany and I attempted to find Selfoss, in the town of Selfoss, on our Southern Iceland trip.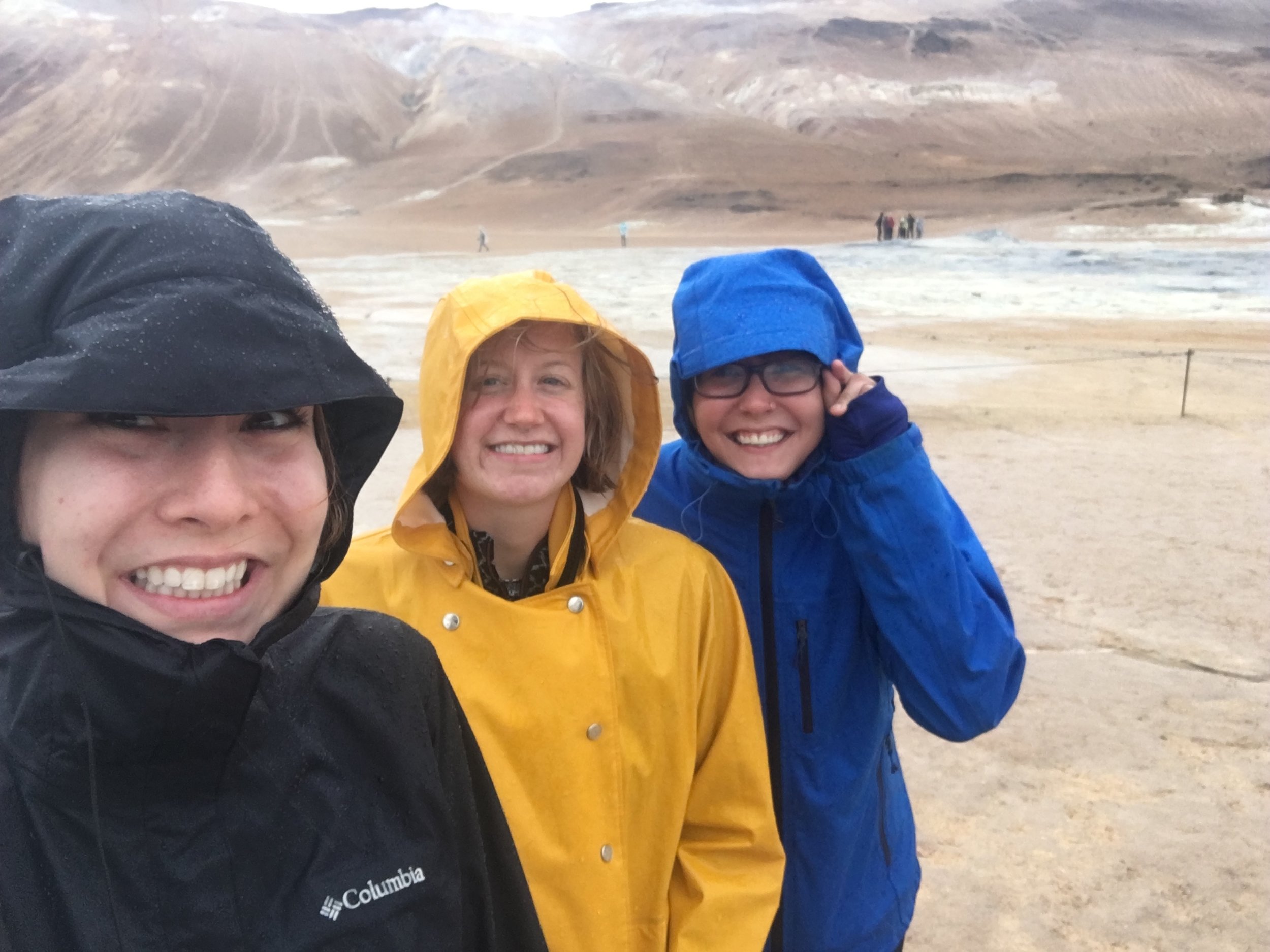 Day 7 September 3, 2017
The day started with 4 miles along the water in Reykjavik, and Reykjavik Roasters coffee on the benches outside in the middle of the city. Then we packed up Sven and headed back on ring road to go to hike to the geothermal river. We hiked about 2 miles, almost all uphill, and let me tell you this was the most beautiful hike. Although I was so happy about all the wonderful weather we had gotten our entire time in Iceland, I truly had imagined Iceland as foggy and misty constantly- and this entire hike was covered in fog- it was everything I imagined "moody Iceland" to be. After the 2 miles, we arrived at the river- and quickly changed and hopped in, once we found a spot that was hot it was amazing. After a bit, we changed and hiked back down to Sven and headed into the cute town to eat ice cream and wander around one of the greenhouses. After arriving back in Reykjavik we headed out to wander around town, where the most adorable orange cat followed me around a block- he was the cutest thing ever & I loved every second of it. We headed into this spot for jazz music and a beer and just relaxed for the evening.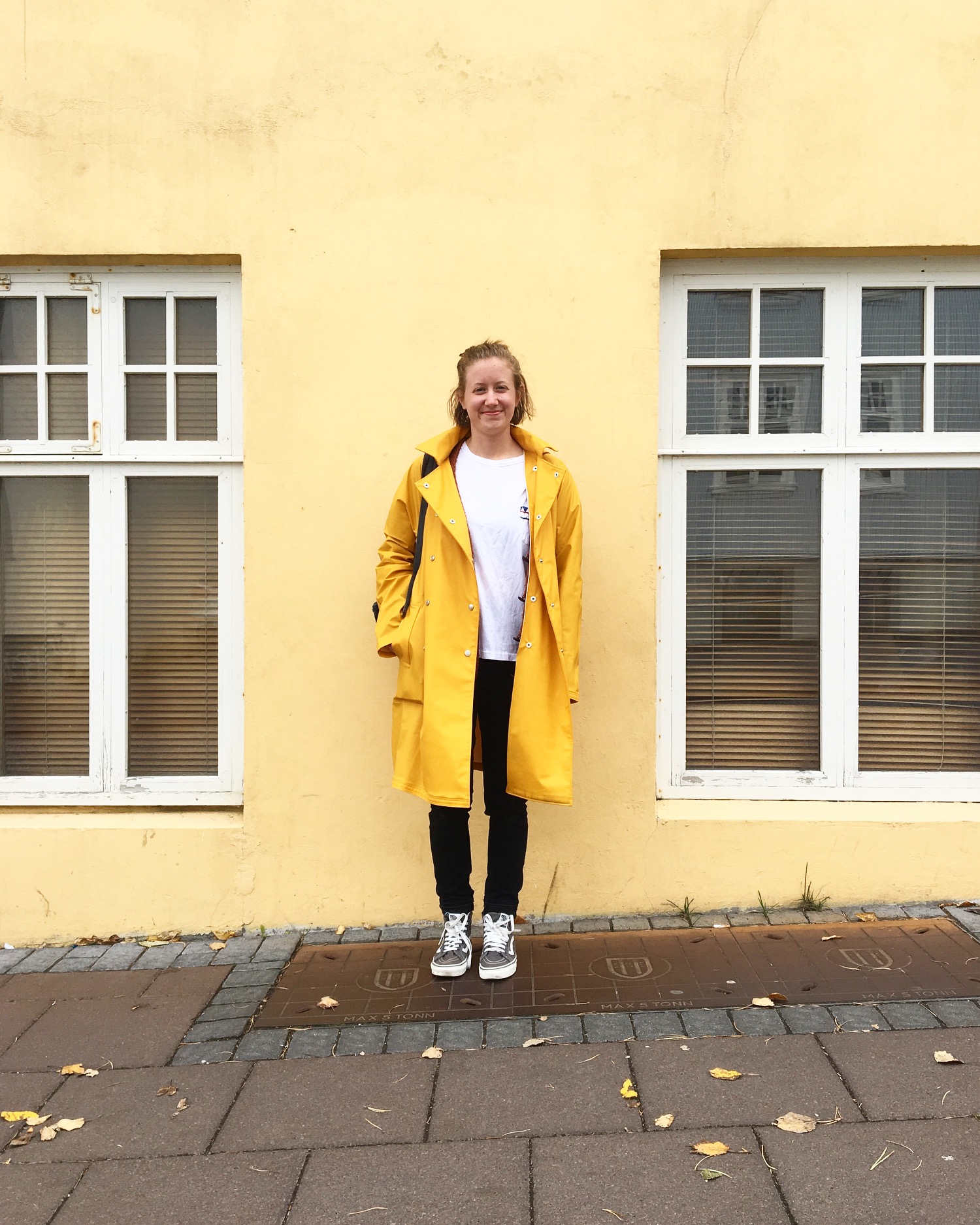 Day 8 September 4, 2017
Started the morning with bread & jam from Braud&Co, if I could just take Braud&Co and Reykjavik Roasters back to Chicago with me that would be a dream. The bread and croissants and cinnamon rolls are just unreal, so delicious. After coffee & bread we went to Grotta Lighthouse about a 15 minute drive outside of Reykjavik- it was so peaceful and beautiful there. The wind blowing the grass, the water hitting the shore, we sat on a huge rock and prayed over the week we had spent together and the seasons we were all entering into. We finished out the trip with an Icelandic hotdog & carrot cake- what a combo, the headed to the airport to travel back to Chicago.
Guys, this trip was a dream- not a perfect dream by any means, but a dream nonetheless. What amazed me is how God showed up all around Iceland, in each new "plan" changed, He was there. He was gifting us left and right, whether it was with a random waterfall amidst hours of driving, enough gas to get through the West Fjords, an unexpected campsite right when we were getting far too tired to stay in the car, or the northern lights dancing around the sky above us. More than anything, we were given space and time for hard conversations to be had, about transitions, about doubt, about gifts, about how God is in it all even when that's hard to see. This trip showed me what it looked like to slow down, to let go of your daily life, to separate from your ordinary life, to truly unplug. In a lot of ways it taught me that self care is necessary, whether that's a week off of work, a weekend getaway to nature when I'm constantly surrounded by concrete, talking about passions and dreams, opening up space for hard but necessary conversations, or turning my phone off overnight. Travel is a game changer guys, and I really do believe it's something that, if able, we should make a priority.
Head over to #hotpotsandtopknots to see more photos of this amazing trip, and check out the video Emily put together of our time together in Iceland right here.
Also, everyone go to Iceland. It's unreal.